Andrea Gabriel
Naturopath, Herbalist, Acupuncturist Kundalini Yoga Studio
Andrea Gabriel is a registered Acupuncturist, Herbalist, Naturopath, Multi-modality therapist and Kundalini Yoga Teacher. Her passion is to uplift and educate people to know, nurture and heal themselves. She has been a practitioner for 18 years and has a great passion for nourishing and cleansing the body with delicious wholesome food. Beyond the physical, she loves teaching people how to clear the mind of dysfunctional beliefs that may limit them reaching their highest potential.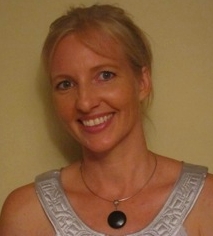 ---
Yoga
Kundalini Yoga involves a combination of physical exercise, breathing techniques, mantra, meditation, and relaxation. It increases flexibility, cardiovascular health, lymphatic, digestive, reproductive, nervous system and glandular function, which not only energizes and detoxifies but also balances your entire being.
Pregnancy Yoga brings you to a place of conscious connection to your self and the precious child you are carrying.
For changes to yoga classes, click here.
    *AWAKEN TO TRANSFORMATION *
I am extremely excited!! After 10 years of contemplation, I'm finally writing my first book.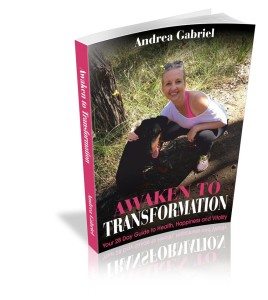 My book is called 'Awaken to Transformation' – Your 28 day Guide to Health, Happiness, and Vitality. As you all know this is my passion and I'm wanting to help as many people as possible transform their lives. I have so many people come to see me who are depressed, fatigued, stressed or in pain. This book has been written to help everyone find their vitality, bliss space and come to a place of self-care, ultimate health, and happiness.
My book will be back from the publishers August 2018 and will sell for $29.95, yet I have decided to offer it for sale at a pre-release price of $19.95 plus $5 postage Worldwide.
Please click the link below if you are interested in being one of the first to get a copy of Awaken to Transformation or would like to support me on my journey to becoming a published author.
Love Andrea
Here's the link for pre-sale:
SUPER SPECIAL PROMO!
Awesome offer for the month of May at Raising Vibrations Yoga and Healing Centre.
-Unlimited class memberships @$69
Contact us today to organize your Yoga Membership.  0403189509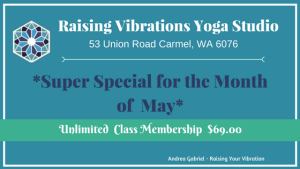 ---
Workshops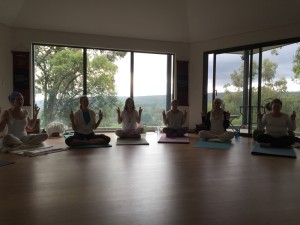 Self Realisation Journey
Experience a sample from the Colour Therapy Pack to gain an insight into how color combinations can help you discover hidden emotions.
Time: 5 minutes
Raising self-awareness is the key to positive change in your life. Emotions that are repressed and disowned get pushed into chronic muscle tensions and block energy and neural flow in the body causing ill health.
The "Tree of Self" is an energetic painting that represents an impression of the human body and begins the process of raising self-awareness.
The Self Realisation Journey is a one day workshop that uses art images and sensory triggers to release deeply suppressed emotions. The workshop introduces participants to the Self Realisation Pack consisting of the book 'Revealing Hidden Emotions', journal and two sets of cards. Combined, these provide participants with the tools and information they need to navigate the emotions conjured up as they embark on their journey.
The workshop design honors free will and respects the privacy of every participant. It has been developed by Libby Baker and provides a supportive environment with trained facilitators who recognize that each person is unique.
Introductory workshops are $195 per person and run between 1 pm and 5 pm on selected days. The following items are included:
A Self Realisation Pack for ongoing use and guidance
Refreshments and afternoon tea
Free onsite parking
Follow up workshops will also be offered to provide a supportive environment for continued growth.
For more information or to book click here. or contact Andrea Gabriel directly through the contact us section.
  * Discover and Activate your 10 Bodies *
10 weeks to Shine Brightly!!!
Embrace this Awesome 10-week Healing journey.
 * Balance your 10 Bodies
 * Energise your Chakras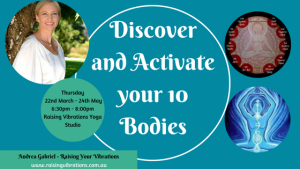 You have 10 Bodies – Soul body, Negative Mind, Positive Mind, Neutral Mind, Physical Body, Arc Line, Auric Body, Pranic Body, Subtle Body and Radiant Body.
You will gain a deep understanding and balancing of each body to create harmony, happiness, insight, creativity and physical wellbeing.
Your Auric field acts as a container for your life force, giving you confidence and feelings of security. If your Aura is strong:
        Illness cannot penetrate the physical body.
       You attract into your life people and circumstances that support you on your path.
      You have the strength and ability to walk away from that which no longer serves you.
Course Details:
Thursday, 22nd March – 24th May 2018
6:30pm – 8:00pm
Thursday's Raising Vibrations Yoga Studio
0403189509
Price: $165.00/ per person
Book Now, Only 15 places available.
https://www.eventbrite.com.au/e/discover-and-activate-you-10-bodies-tickets-44356639904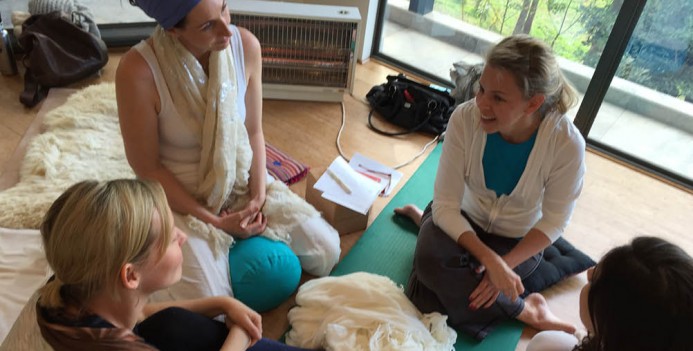 Services
Why see a Naturopath?
A consultation will give you a clear holistic understanding of your SELF and your requirements for optimal health and well being. An initial consultation takes 1.5 hours. It is clear, concise and very thorough.
"Click pictures below for more modality information"
---
Contact Us
A: 53 Union Road, Carmel WA 6076
P: 9293 5190
F: 9293 5190
M: 0403 189 509
E: gabriel.naturopathic@bigpond.com
UPCOMING EVENTS:
* MeetUp – Self Realization to Uncover Joy and Balance Within! *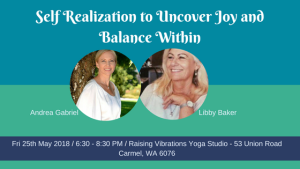 Hi Everyone!
 We just had an awesome event this month… It was truly inspiring discovering how to unlock money mindset and grow our businesses!!……and it's exciting to have our next live event this coming 25th May…
Just released another 5 tickets at discounted price, please book your places before it will go up to its regular price   http://bit.ly/SelfRealizationMeetUp
Our guest speaker will share us her insights from a series of evolving artwork that helped her find the magical power of collective consciousness and willingness for an open heart and mind.
 Our Guest Speaker is Libby Baker!
Libby is a trained nurse and talented artist was born in New Zealand and moved to Australia in 1979 with her first husband and two young sons. She completed a postgraduate degree in Occupational Health & Safety at Curtin University in Western Australia with further post-graduate psychology studies. She returned to painting after a 20-year career in safety management, auditing, training and consulting. During that time she re-married, had a third child and survived a health scare that forced her to examine what she wanted from life.
Following a dream about nature spirits, she was intrigued to see their images appear in watercolor as she painted. In 2008 she began painting a tree of color that resembled the human body to show its energetic links to earth and universe. In 2014 the series of fine art Chakra Tree paintings now feature in a self- published book Revealing Hidden Emotions. In 2017 she exhibited a pictorial story of Hope and Transformation at KidogoArthouse Fremantle. The exhibition captured over 90 images layered on one canvas over 7 years showing the intervention of feminine energy and its interaction with the earth and universe to restore balance.
 She believed it was as though the paintbrush had a mind of its own. Images and scenes would magically appear and then be replaced with symbols and ancient stories that stirred her emotions.
 If you want to be inspired by a well known Artist and help discover the best in you and what you do, why not join us on Friday, 25th May at Raising Vibrations Yoga Studio – 53 Union Road Carmel, WA 6076
Grab your tickets here:
http://bit.ly/SelfRealizationMeetUp
Tickets Price: $20 (includes Speaker, supper, a drink, wonderful prizes, networking opportunity and a 15 minutes hand massage)
*For the first 5 tickets purchased – half price at $10
You will be so pleased with what you will be learning!
See you there!
Andrea xx
* Yin Yoga and Sound Healing *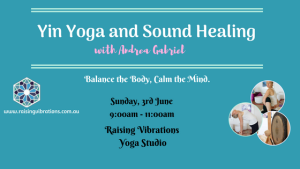 Have you been experiencing stress, inability to sleep, muscle tightness or fatigue?
Do you want to feel deep states of relaxation, and heal by clearing blockages within our meridians?
Yin Yoga is a wonderful practice for total wellness. It brings balance and calm to the body and mind.
It is a slow-paced style of yoga, where your body is fully supported to maintain comfort in every asana. 
The postures are maintained for 3-8 minutes, which allows deep stretching of the fascia that surrounds both joint connective tissue and muscle.
Yin also opens the organ meridians of the body to promote deep healing and regeneration at a cellular level.
This is a style of yoga you must experience to appreciate.
Crystal Bowl Sound healing allows you to enter deep states of relaxation, creating vibration frequency that soothes and heals by clearing blockages within our meridians.
Benefits of Yin Yoga and Sound Healing:
-Deep relaxation               -Reduced Stress     -Improved Sleep
-Reduced Heart Rate       -Pain Relief             -Heightened awareness of self
-Rejuvenation and improved energy.
Take time out for yourself and improve your overall wellbeing.
On the first Sunday of each month experience the power of Yin Yoga, Breath, Crystal Bowl, Sound Relaxation and Healing.
Event Details:
Sunday 3rd June 2018
9:00am – 11:00am
Raising Vibrations Yoga Studio
53 Union Road, Carmel WA 6076
Please grab your places here:
http://bit.ly/yinyogasoundhealing0603
* Sound Healing with Didgeridoo, Gong, and Crystal Bowls *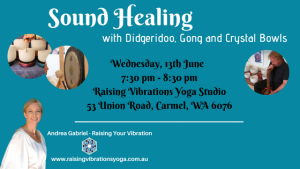 – Are you lacking the energy you need to get through the day?
– Do you have a specific area of your life or body you need healing or balance with?
'Our ancestors believed that music had the power to harmonize one's soul in ways that traditional medicine could not. In ancient China, one of the earliest uses of music was healing. The Chinese character for medicine actually comes from the character for music.
*Join us Wednesday, 13th June for a once a month Sound healing session under the Pyramid at Raising Vibrations Yoga Studio.
The beautiful crystal bowls emit an expansive sound that is healing for the body's deeper tissues. Evocative of ancient temples, the delightful sounds of the crystal and Tibetan bowls exude a profound healing matrix. They are grounding and help promote a stable, peaceful energy. A gong is an ideal tool for stress reduction, stimulation of the glandular system and to clear emotional blockages. The gong resonates all cells of the body simultaneously helping to bring into balance the energy centres (chakras) of the body in a most powerful and effective way.
Benefits of Gong and Crystal Bowl Healing are:
– Stress Relief
– Mental Clarity
– Improved Sleep
– Pain Relief
– Heightened awareness of self
– Increased Creativity
– Rejuvenation
The didgeridoo produces a primal sound that originates from the dawn of time. It promotes an extremely relaxed calm feeling that allows listeners to enter a deep meditative state that enhances the body's natural healing abilities. Along with this primeval sound, the didgeridoo also produces low-frequency vibrations that provide a no-touch massage when played over the recipient, delivering a wide range of healing benefits.
Event Details:
Wednesday, 13th June 2018
 7:30pm – 8:30pm
Raising Vibrations Yoga Studio
53 Union Road, Carmel WA 6076
Price: $30.00/ per person
 Student/Pension $25
Members of RVYS $10
Book your tickets in the link below
Let's connect
Make an enquiry