Yoga
Restorative Yin
Super excited to be introducing Restorative Yin. A class of pure healing zen.
Friday's – 9:30 – 11:00am
---
Awaken to Transformation Book
In her first published book, Andrea Gabriel shows maturity and honesty often not found until much later in a literary career. This book is a user guide for life-covering body, mind, and soul.
Andrea provides a comprehensive yet easy-to-read walkthrough the many sides of what makes us human and intersperses the information delivery with personal and often rawly confronting anecdotes from her personal life experience. These personal examples bring technical information to life and set this book apart from the thousands of others in this genre. Covering practical aspects such as diet, exercise, and organization, as well as more esoteric concepts like chakras and the 10 bodies; this guide is an indispensable tool for anyone looking to get an advantage in today's manic world.
This is a book you will read, and the re-read many times; each time, uncovering more hidden gems – Chris Holman
Here's the link to purchase: bit.ly/awakentotransformation
---
Yin Yoga
Yin is a slow-paced style of yoga, where your body is fully supported to maintain comfort in every asana. The postures are maintained for 3-6 minutes, which allows deep stretching of the fascia that surrounds both joint connective tissue and muscle. Yin also opens the organ meridians of the body to promote deep healing and regeneration at a cellular level.
We focus on connecting to the breath, which allows for deeper release not only within the physical body but also stress relief mentally and emotionally. The 'bliss point' doesn't come at the end of class. It stays with you throughout the entire class.
This is a style of yoga you must experience to appreciate.
To obtain optimal benefit from Yin Yoga it is best performed when your muscles are still cool. Our class times are therefore only mornings.
Wednesday 6.00 -7.15am
1st Sunday of the Month Yin with Crystal Bowl Healing  9.00 -11.00am
---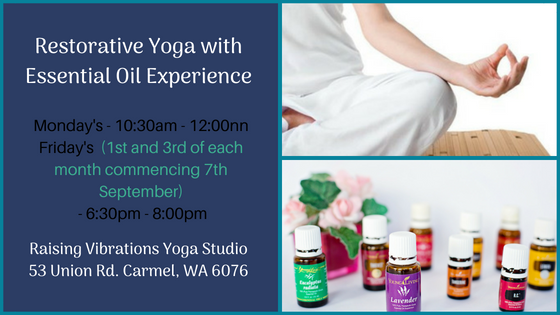 Restorative Yoga
A restorative yoga sequence most often involves only five or six poses, supported by props that allow you to completely relax and rest. It offers a welcome respite among the turbulence of life and helps prepare the body and mind to sense deepened awareness. Gentle movement and stillness with the aid of props, centering your breath and body, aligning the physical and mental allows you to slow down and explore in gentle stillness your body and mind.
The slower pace and deep breathing of a restorative yoga class activate the parasympathetic nervous system as you settle into your first posture. This allows you to release the effects of the regular fight-or-flight stress response that if held may cause long-term health issues. The calming effect on the nervous system is deeply relaxing and comforts your mind and body. Each pose, each breath and the subtle depth of exceptional quality specialty oil blends leads you into a deeper state of expanded awareness. You are carried from the waking state of consciousness into the silent space between your thoughts.
The comfortable pace of restorative yoga creates a deeper understanding of your own body. Your awareness is directed within, your practice becomes a sanctuary for the mind and spirit allowing you take a deeper look at who you are, what you want, and how you can serve and flourish in this world. You become increasingly aware of your actions and how they influence your level of comfort or discomfort. You see the direct cause and effect relationship between your poses, breathing, and overall level of well-being. You then begin to make more deliberate and attentive choices, both on and off the mat. You receive the greatest benefits from your practice not through forcing yourself into a pose, but by releasing and surrendering to it. This mentality helps to cultivate acceptance of your body and its inherent limitations. Further, it strengthens your ability to let go of preconceived notions of your body and how you think it should look or feel, both in and out of a pose. When increased ease and comfort are the themes of your yoga practice, acceptance and detachment naturally emerge as a result.
Restorative yoga provides you with a safe harbor wherein you can reconnect with your true nature, which is immortal, invincible, pure, and nourishing. Making that connection through your poses, breathing, and deep relaxation restores the memory of who you are. It creates a feeling of security and awareness of the inherent goodness within your heart and in the world. You awaken grace, poise, flexibility, balance, strength, and present moment awareness.
Restorative Yoga
Days:
2nd Monday of each month  9.00am – 10:30am
2nd  Friday of each month  6:30pm – 8:00pm
Location:
53 Union Rd Carmel
---
Sunday Morning Sadhana
Every Sunday, come join us in the Amrit Vela, 5.00-7.30am for a journey to self awareness.
A Q U A R I A N S A D H A N A
We begin with Japji, the song of the soul.
Yoga, breath and healing relaxation.
Mantra for opening the heart and expanding the consciousness.
"Getting up for sadhana in the morning is a totally selfish act – for personal strength, for personal intuition, for personal sharpness, for personal discipline, and overall for absolute personal prosperity." Yogi Bhajan.
There is no set fee for Sadhana. By donation.
---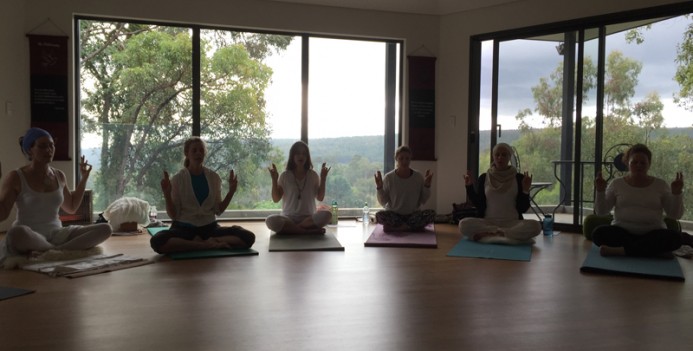 Meditation Class
Every Saturday morning join us at 8.30am for a 31minute meditation prior to our yoga class at 9.15am.
This 31 minute meditation is for those who would like to experience a greater depth of healing and self awareness. Each meditation is different and will be focussing on moving through emotional, physical and mental blocks that may be stopping you from reaching your highest potential.
Cost for meditation $10.
It is not necessary to stay on for the yoga class, but if you would like to the two classes will be $20.
---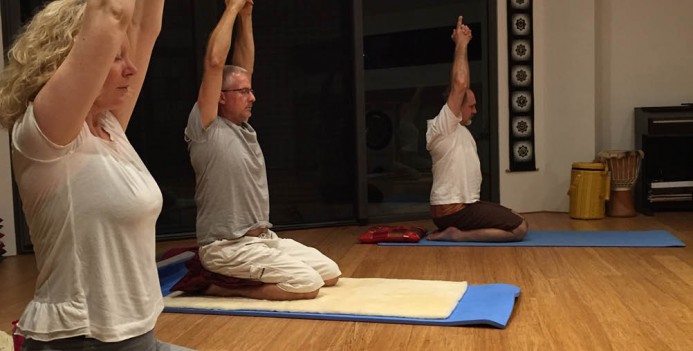 Kundalini Yoga
The teachings of Kundalini Yoga deliver the ancient knowledge passed down from Masters of Yoga in India. These teachings were brought to the West in the late 1960's by the last Kundalini Master Yogi Bhajan.
Kundalini Yoga is the yoga of awareness. It is a science and also a technology. Through the use of breath (pranayam), mantra (sound), and asanas (angles of the body known as postures), this technology awakens your awareness and takes you back to your original Self. It helps you remember who you really are by connecting you with the vastness of the Creative Force from which you came.You are not only working the muscular system, you are healing your organs, clearing your energetic body and bringing clarity and calm to the mind.
Kundalini Yoga takes you to a state of pure, high vibrational consciousness that goes beyond any mind processes. This state is know as Shuniya.
With a combination of physical exercise, pranayam, mantra, meditation and relaxation, not only are you increasing your flexibility, cardiovascular health, lymphatic, digestive, reproductive, nervous system and glandular function. You are energising your body, detoxifying and balancing your entire being.
As a Registered Acupuncturist, Naturopath and Multi Healing Modality practitioner I believe Kundalini is one of the most powerful transformational healing modalities I have come across.
Private classes are recommended if you have a specific area in your life that requires attention and you are self motivated to practise regularly on your own.
You do not need to be super fit or flexible to join a Kundalini Yoga class. There are variations with every exercise.
Public Classes –
Days and times:
Monday morning 9.00am – 10.30am (fortnightly) 
Monday morning 10.30am – 12.00pm 
Tuesday evening 6.45pm – 8.00pm
Wednesday evening (second Wednesday of each month) 7.30pm – 8.30pm
Thursday evening 6.30pm – 8.00pm
Friday morning 9.30 – 11.30am
Friday evening 6.30-8.00pm (fortnightly)
Saturday morning meditation 8.30am-9.00am
Saturday morning 9.15am-10.30am
Sunday morning Sadhana 5.00am-7.30am (by donation)
Location:
53 Union Rd Carmel
Saturday mornings 8.30-9.00am – 31 Minute Meditation
Saturday mornings 9.15-10.30am – Abundance for Life
Release the physical and emotional blockages that are keeping you from fulfilment in every aspect of your life. Find the mental clarity, energy and love for life so you may attract opportunity and manifest ultimate happiness.
Monday mornings 9.00am-10.30am – Restorative Yoga with Essential Oil Class (fortnightly)
Monday mornings 10.30am-12.00pm – Kundalini Yoga
A class to stretch, strengthen and sooth the body, calm the mind and connect you to your inner power, wisdom and devotional love for Self and your divine feminine.
Tuesday evenings 6.45-8.00pm – Kundalini Yoga
Wednesday 6.00-7.00am – Yin Yoga
Wednesday evenings (second Wednesday of each month) 7.30-8.30pm – Meditation and Sound Healing
Thursday evenings 6.30-8.00pm – Kundalini Yoga
Friday 6.30-8.00pm Restorative Yoga with Essential Oil (fortnigthly)
Every time we feel stress our nervous system along with our adrenal glands become depleted and require a greater amount of nerve nourishing nutrients. Over time irritability and fatigue become more obvious in our daily life. These classes will allow you to release stress hormones from your body while strengthening your nervous system to cope with stress and it's triggers on a daily basis.
Lymphatic and Circulatory Systems
If our circulation is sluggish, nutrients and oxygen aren't being supplied to organs adequately and toxins are not being removed from the tissues. A healthy Lymphatic system also means a strong immune function. Poor circulation and lymphatic congestion can lead to tiredness, poor concentration and cold extremities.
The Digestive System and Liver Detoxification
A sluggish digestive system can create poor motility in the bowels and the inability to assimilate the nutrients from our food adequately. We can become tired after eating a large meal and often feel quite lethargic as toxins are being reabsorbed into the body via the Large Intestine rather than being removed from the body. If our Liver isn't functioning optimally we accumulate unwanted toxins in our tissues and are unable to process hormones effectively.
The Glandular System
Our Glandular or Endocrine System along with the Nervous System coordinate functions of all body systems. The endocrine system secretes the hormones necessary for the optimal function of the entire body and is responsible for altering metabolic activity. If our glands aren't functioning due to mineral deficiency, blockages within the energy meridians of the body or excessive activation due to stress or toxin exposure it is imperative to regain and maintain the balance with the hormonal secretions so the rest of our body's systems can obtain homeostasis.
Extra information will be given during class so you can assist the systems we will be working on a daily basis.
You don't have to commit to a regular yoga practice, however, you will definitely notice a positive difference if you do. Committing to at least two classes per week is highly beneficial and recommended to create rapid positive changes both physically and mentally.
Full Moon Yoga and Meditation is also held at intervals throughout the year – contact us for dates and times.
Where: Raising Vibrations Yoga Studio – 53 Union Rd Carmel
Cost $10 Donation goes to KYWA
What to bring:
A yoga mat, cushion, blanket for relaxation and water bottle.
If you are unable to sit on the floor chairs are available.
Eco-Friendly yoga mats for sale $35
What to wear:
Comfortable clothing
Cost:
Full Price:
$20 per class casual
$100 6 class trial pass
$110 1 month Unlimited class membership
$250 3 month Unlimited class membership
$420 6 month Unlimited class membership
$740 12 month Unlimited class membership
All classes and memberships offer a 10% discount for students and pensioners.
Private Class at Raising Vibrations $110
Private Class at your venue $150
---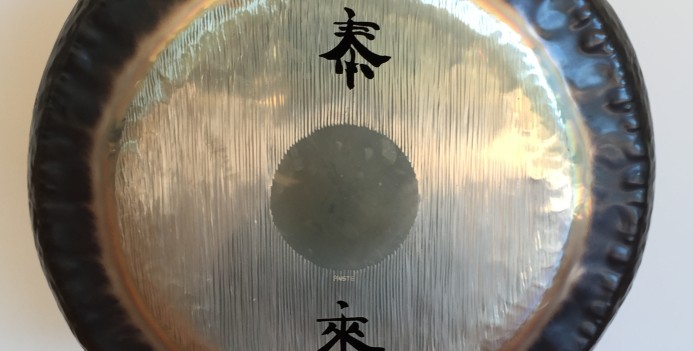 Gong and Crystal Bowl Healing
Once per month on the second Wednesday of each month, learn and experience the power of Meditation, Breath, Crystal Bowl, Gong and Didgeridoo Sound Relaxation and Healing, 7.30 – 8.30pm, beneath the Pyramid at Raising Vibrations Yoga Studio.
These beautiful crystal bowls emit an expansive sound that is healing for the body's deeper tissues. Evocative of ancient temples, the delightful sounds of the crystal and Tibetan bowls exude a profound healing matrix. They are grounding and help promote a stable, peaceful energy.
The ancient vibrations that come through the didgeridoo help listeners enter deep states of relaxation creating emotions within us which are soothing and healing by clearing blockages within our meridians. It is a very effective treatment for stress reduction and Aboriginal elders speak of healing unwell people by playing the didgeridoo near the body of the person. The didgeridoo is an instrument that produces a low-frequency sound that we can hear and vibrations that we can feel. These low tones can be related to a no-touch sound massage that can provide relief for all pain conditions. The didgeridoo will be played during our sessions by the wonderful heart centred being and healer, Digby.
A gong is an ideal tool for stress reduction, stimulation of the glandular system and to clear emotional blockages. The gong resonates all cells of the body simultaneously helping to bring into balance the energy centres (chakras) of the body in a most powerful and effective way.
In any healing, meditative, transformational or spiritual practice, the ultimate goal is to impact on a persons nature of being by raising their individual vibratory frequency to restore their natural state of balance. Going into a deep mediative state during these sessions also gives us a chance to connect with the inner wisdom of our subconscious mind.
Crystal Bowl and Gong Healing Sessions
Days:
Once per month, the second Wednesday of each month 7.30pm – 8.30pm
Cost:
$30 per class casual
---
Timetable and Pricing
Yoga Timetable of classes at Raising Vibrations Yoga Studio
Monday
9.00am – 10.30am Restorative Yoga with Essential Oil (fortnightly)

 

                                                       

10.300am – 12.00pm Kundalini Yoga
Tuesday
6.45 – 8.00pm  Kundalini Yoga 
Wednesday
6.00 – 7.00am Yin Yoga 

7.30 – 8.30pm Sound Healing

(Second Wednesday of each month)
Thursday
6.30 – 8.00pm  Kundalini Yoga
Friday
9.30am – 11.00am Restorative Yin

6.30pm – 8.00pm Restorative Yoga with Essential Oils

(fortnightly)       

                                                                                                                                                                             
Saturday
8.30 – 9.00am 31 Minute Meditation

9.15 – 10.30am General Kundalini Yoga
Sunday
9.00 – 11.00am Yin Yoga and Sound Healing

 (First Sunday of each month)

5.00 – 7.30am Sadhana

(Second Sunday of each month. By Donation)
Cost:
Full Price:
Sound Healing – $30 Members $10
Sadhana by donation
Restorative Yoga with Essential Oils – $25 Members $5
per class casual – $20 
6 class pass – $100
1-month Unlimited class membership  – $110
3 months Unlimited class membership – $250
6 months Unlimited class membership – $420 
12 months Unlimited class membership -$740 
All classes and memberships offer a 10% discount for students and pensioners.
Private Class at Raising Vibrations $110
Private Class at your venue $150
---
Recipes
Raw Delicious and Nutritious Beetroot Soup
– Blend together until thick liquid
2 cups water

3 peeled beets

1 inch x 2 inch piece of fresh ginger (peeled)

4 garlic cloves

6 fresh bay leaves
– Once blended place in a large bowl
– Blend together at low speed so chopped, yet still a little chunky
2 cups water

3 carrots

3 stalks celery

3 peeled oranges (remove seeds)

1 tblspn Organic apple cider vinegar

1 tblspn raw unprocessed honey

¼ cup olive oil

½ cup walnuts

1 tspn Himilayan crystal or sea salt
– Add to beetroot mix
– Chop finely
¼ cabbage

small bunch parsley
– Sprinkle over top of soup
Raw Chocolate Torte
Base
 1 cup organic cacao powder

1.5 cups ground organic almonds

1 ground vanilla pod, or 1 teaspoon vanilla powder

¾ cup dessicated coconut

2 tblspn melted cacao butter

1 cup pre soaked medjol dates

pinch himilayan crystal salt or sea salt
Filling
2 cups pre soaked cashews (2-3 hours)

½ cup yacon syrup, raw unprocessed honey or organic maple syrup

1 ground vanilla pod, or 1 teaspoon vanilla powder

½ cup organic cacao powder

½ cup organic carob powder

½ cup melted coconut oil
Method – Make base first by processing all ingredients until smooth. Press into a loose bottom flan tin and refrigerate while making filling.
Filling – Blend all ingredients in food processor until smooth and creamy.
– Pour over base and freeze until set.
– Once set remove fromtin and cut into bite size cubes. Store in freezer for nutritious, rich 
chocolate snacks.
– If you are making the torte to be eaten for a special occasion cut into pie slice pieces once refirgerated and firm. This torte is extremely rick so keep the slices thin. I serve with a creamy vanilla coconut yoghurt and raspberries.
---